ABOUT US

UNICOOP
THE NATIONAL COOPERATIVE UNION UNICOOP LTD, was born on July 8, 1995, acquired its juridical personality on July 15, 1996 and was inscribed in the Cooperatives Register on the same date under N°74. UNICOOP currently has 8 member cooperatives, 2 of them which are located in the Department of Itapúa, 5 in the Department of Alto Paraná and 1 in Canindeyú.
These associated cooperatives compose an agricultural area of approximately 330,000 hectares, with an average annual production of 1.200.000 tons of: Soybean, Wheat, Corn, Sunflower, and Canola. Through the Union the cooperatives pool their goods purchases and sales of production together in order to obtain better prices. This service is first stage marketing within UNICOOP objectives, as the second is the setup of Agro-Industrial structures to allow the transformation of raw materials produced by the members and the establishment of factories for the processing of goods for self-sufficient and productive activity.
UNICOOP is working and investing in building an Agrochemical Formulator Factory together with Agrolatina S.A. in the town of Hernandarias. UNICOOP is part of an enterprise created in Brazil by importers and exporters Paraguayans named UNEXPA Ltd. Its goal is to provide services of transshipment and storage of grain, fertilizers and other merchandises in the dry port of Cascavel, Parana, Brazil. In addition to the loading and unloading of goods, UNEXPA must coordinate the provision of customs service´s typical of a dry port for imported products to Paraguay or exported to other countries.
Our work philosophy is to cooperate equally.
Each one does their best for the common benefit.
COOPERATIVE MEMBERS
OPERATING AREA
Area of influence UNICOOP
The Central UNICOOP currently has 08 member cooperatives.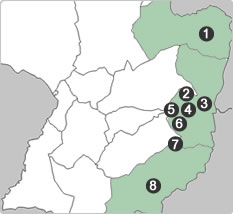 Canindeyú State

1. Cooperativa Cooperalba

Alto Paraná State

2. Cooperativa Coopasam
3. Cooperativa Unión Curupayty
4. Cooperativa Copronar
5. Cooperativa Pindó
6. Cooperativa Raúl Peña

Itapúa State

7. Cooperativa Naranjito
8. Cooperativa Colonias Unidas